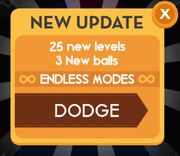 Version 4.5.3 is an in Color Switch that was release on September 15th, 2016 on Android and September 17th, 2016 on iOS..
What's New?
Fixed Endless Mode Spin and Classic/Challenges levels 23 and 24
Fix level 59 Dodge
Fix loop Brick on some levels (a powerup appears when the ball is blocked)
Trivia
WIP
Ad blocker interference detected!
Wikia is a free-to-use site that makes money from advertising. We have a modified experience for viewers using ad blockers

Wikia is not accessible if you've made further modifications. Remove the custom ad blocker rule(s) and the page will load as expected.